Customer Reviews
Out of Stock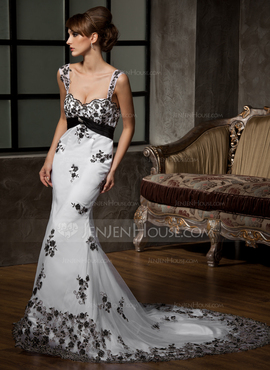 Trumpet/Mermaid Sweetheart Chapel Train Tulle Wedding Dress With Lace Crystal Brooch
#002000324
List Price: US$ 407.99 Save US$ 171.00
By Clement
2013-06-24 23:16:30
FEATURED REVIEW
the tulle is soft, not stiff at all. unbelievable. it is so lucky to find your website on line. i am so excited to have this dress with so low a price. i will introduce your website to my friends in New York!
By Marie Louise
2012-11-24 15:41:52
I love this dress so much, I really want it in the red, can you let me know what the colours are for the red dress for the different info I need to fill in Sash, embroidery colour. It is a fantastic dress and I want it for my wedding day. How long would it take to make, Im living in Ireland waht would be the delivery time.

Thank you so much
Hope you can help with the info,

MarieLOuise
By AURELIE
2012-11-02 03:59:55
bonjour,
Est t'il possible de voir la robe en blanc et écharpe rouge, mais aussi en blanc et écharpe or.
Merci.
By elizabeth
2012-01-10 13:43:17
hola! me canto este vestido,es el estilo de vestido que me canta pero ,mi pregunta es? Es posible cambia el color de los diseno a color oro ? ,o sola mente lo tienen en negro y rojo?
By Anne MARTIN
2011-10-15 05:04:36
I absolutely adore this dress and have my heart set on it. Due to very sad circumstances I'm getting married in a hurry-about 4 weeks time. Is there any way you can guarantee a quicker and specific delivery time?? I would also like to purchase about 8 bridesmaid dresses at the same time.
Reply by JenJenHouse 2011-10-16 00:31:03
Hi Anne,

Thank you for contacting us.

Actually, 4 weeks is enough for us .Please place your order as soon as possible and choose expedited shipping. Then, you can get them in time.


If you have any other questions,please feel free to contact us.
By Dina
2011-09-05 18:16:18
beautiful dress does this come in any other color? Instead of red or black all ivory or champagne
Thank toy you
Dina
Reply by JenJenHouse 2011-09-05 20:31:53
Hi Dina,

Thanks for your mail.

This dress only comes in white, Ivory, pink and champagne. Sorry, this dress can not be made in other colors. Please know that.

Could you kindly tell us do you have any other requirements for this dress?

We are looking forward to your reply.
By amy
2011-08-09 14:24:17
love love love this style of dress but could it come with just white beading instead of the colour? If so could you send me close up pics of it so I can see the front and back n more detail please, also im getting married on the 1st oct so when at the latest would i need to place the order (it will need to be delievered to uk). Thanks in advance
Reply by JenJenHouse 2011-08-09 22:43:05
Hi Amy,

Thank you for your timely reply.

The beading of this dress is on the lace part of it , surely, we can make the beading white.
As the dress is a new arrival, we don't have pictures of it now.Normally we need 20-25 days to make the dress and another 3-6 days to ship it to you based on expedited shipping.

So, we hope you can place your order as soon as possible.



Please kindly let us know if there is anything we can do for you.
By Thesa
2011-06-03 15:05:13
Does this dress just come in the black or red beading?
Reply by JenJenHouse 2011-06-03 23:13:45