Customer Reviews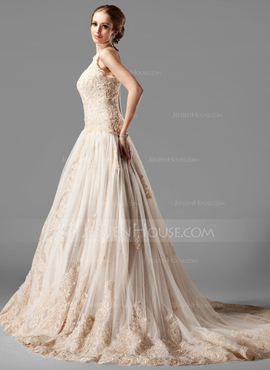 Ball-Gown/Princess Halter Chapel Train Tulle Lace Wedding Dress With Beading
#002000154
List Price: US$ 377.00 Save US$ 0.00
By LaKeisha Stokes
2012-07-10 14:12:15
By darya-skoropad
2013-09-16 02:48:05
FEATURED REVIEW
Ich habe den Kleid in Elfenbein farbe heute gekriegt.Das Kleid ist super schön!gefählt mit sehr!
aber ich habe noch Zoll 97 euro bezahlt !also, wenn jemand nach Deutschland kleider bestellen will, muss man noch mit ca.100 euro Zollamt rechnen.
By Jennifer
2013-06-24 00:26:36
FEATURED REVIEW
i chose the size 6, it is a little tight for me. but never mind, i am loosing weight now. i believe it will fitted me very well after 2 months. i am so happy to find your website and have this beautiful dress
By Fanny
2013-06-23 23:35:40
FEATURED REVIEW
I have got the dress earlier than I expected, and it is so beautiful. It came just 3 days after they sent it. I love it so much. It fits me perfectly. Thank you very much!
By Dale
2013-06-23 00:30:08
FEATURED REVIEW
I buy this dress for my wedding and I was happy when I received the package. Much nicer than expected when I opened the box. I am absolutely thrilled and delighted with my dress and the service, thank you so much to everyone who took part in making it.
By Lydia
2013-06-21 02:06:23
FEATURED REVIEW
hi, i received my dress. the dress is very beautiful. it fitted. the tulle of the dress is soft, not stiff. i can not wait to wear it on my wedding party next month. thanks very much. i love this dress
By Joliet
2013-06-18 02:48:55
FEATURED REVIEW
When i saw the dress,I loved it at the first sight.So i placed the order without hesitation.The dress turned out to be very good.i feel too excited.I will come next time!
By Lillian
2013-06-18 02:16:17
FEATURED REVIEW
I knew it was a risk buying online but i'm totally satisfied with the purchase! Stunning dress, perfect fit, amazingly fast delivery! You won't be disappointed purchasing a dress from jenjenhouse!
By Maria
2013-04-01 01:43:11
FEATURED REVIEW
I loved this dress because it suited my shape perfectly.The dress was absolutely perfect and arrived ahead of schedule. I will definitely use the website again!
By Julia
2012-12-13 02:53:01
FEATURED REVIEW
sehr schön und ich liebe dieses Brautkleid.

Gute Qualität mit super schneller Lieferung. Es steht mir einfach super und ich komme gern wieder hier.
Reply by JenJenHouse 2012-12-13 02:54:19