Customer Reviews
Out of Stock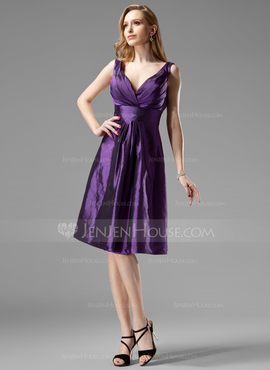 A-Line/Princess V-neck Knee-Length Taffeta Bridesmaid Dress With Ruffle
#007004123
List Price: US$ 145.00 Save US$ 55.01
By Kara
2012-12-22 23:28:35
FEATURED REVIEW
This dress is great! Very flattering and so comfortable. I've been wearing my dress with boots, and i guess it would look great with dress shoes too. Buy it!
By Leila
2012-12-19 23:33:21
FEATURED REVIEW
I love this dress,look so beautiful with it .Stunning colour and style, beautifully made, high quality fabric.Their service is so nice! - I was able to track the shipping all the way to my door in western Canada.THANK YOU:)
By Chloe
2012-12-16 23:52:20
FEATURED REVIEW
Item was perfect, just how I expected and how it was described and how it looked in the photo. Quality and value, I am very pleased. would recommend jenjenhouse to others and i am sure to be ordering again. thank you.
By Elva
2012-12-11 00:55:50
FEATURED REVIEW
I ordered this dress for a wedding in February 2013. The dress arrived within two weeks of being ordered. The dress is amazing, the quality of the workmanship, sizing of the dress, fabric, colour and little extra touches, I just love it. I will be highly recommending this web site to all my family & friends.
By Waldmeyer
2012-12-06 22:02:07
FEATURED REVIEW
this Dress is definitely not warm enough for winter (even in ATL), but is instead a super cute dress for spring and fall. and love it
By Atalanta
2012-12-03 22:04:11
FEATURED REVIEW
I ordered this dress in a size 8 for my event and was very pleased with how it fitted me. There was a built in bra and the dress was beautifully made, I was just beautiful as the model in the picture.Can not wait the day's coming:)
By Vipuli
2012-11-30 00:41:32
FEATURED REVIEW
This dress is amazing. I have had it for over a year, and it still looks and fits great after many washes! I'm considering getting it in another color.
By Lily
2012-11-28 21:51:39
I am so happy ,JenJenHouse really amazed me when I opened the parcel. The dress is very very much beautiful.. I feel that I am never more elegant than ever.. Like it so much.. The fabric is with high quality and it was made in very good manner... ... Thanks ...
By Angela
2012-11-26 22:42:55
I was very pleased with this site AND the dress!Although It came 3 days late and it was perfect for being a bridesmaid in my friend's wedding. I'm going to have to find another reason to wear it I loved it so much!
By maira
2012-11-03 17:53:15
adorei esse vestido mas nao entendo ingles esta meio complicado pra comprar ele serve para ser usado em casamento para convidada meu telefone e 12 91220505