Customer Reviews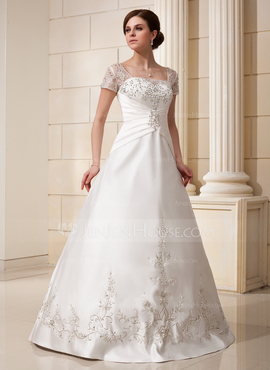 A-Line/Princess Square Neckline Floor-Length Satin Wedding Dress With Embroidered Ruffle Beading Sequins
#002012175
List Price: US$ 399.99 Save US$ 173.00
By Gabriele Kurdewan
2013-11-02 10:54:28
FEATURED REVIEW
Wir haben das Kleid nach Maß schneidern lassen für unsere Tochter: Es ist genauso wunderschön wie auf dem Foto. Alles passt und es ist auch sehr sorgfältig gearbeitet worden. Jetzt können wir die Hochzeit kaum noch erwarten!
Danke auch für die schnelle Antwort auf all unsere Fragen und die superschnelle Lieferung innerhalb von 3 Wochen!
By Denise Lantz
2013-08-12 03:50:55
FEATURED REVIEW
Sizing is exactly as listed on website. Detail is absolutely beautiful. Very nice waistline
By Harriet
2013-06-23 00:55:05
FEATURED REVIEW
I was pleasantly surprised at the quality and the details in the dress. I did the custom fitting and was very impressed with the overall fit and look of the dress. I would not hesitate to order from here again!
By Kitty
2013-06-18 02:46:14
FEATURED REVIEW
The style has great originality and the workmanship is meticulous.it's really worth buying this beautiful dress.Please trust me ,trust this website.You can also have a try and it won't disappoint you.
By Cheryl
2013-06-18 01:47:04
FEATURED REVIEW
My wedding dress is just perfect! People are amazed that this dress did not cost thousands of dollars. It is stunning, even more beautiful than in the picture! I have recommended your website to my friends! Thank you so much!!!
By Malena Holmberg
2013-04-17 09:58:36
FEATURED REVIEW
Hej!
Jag beställde min klänning i slutet av mars och klänningen kom ca 3 veckor senare, Färgen är elfenbensvit med silver brodyr och den är helt ljuvlig. Jag mått beställde klänningen efter mina mått, en liten korrigering får jag göra, delen som sitter över axlarna var 5 cm för lång, men det gick lätt att fixa. Lätt att beställa och det är värt pengarna. 10+ Tusen Tack...:)
By Sandra Simanowski
2013-03-27 05:45:10
FEATURED REVIEW
Ich habe mein Kleid am 20.02.2013 bestellt! Die Lieferung erfolgte am 25.03.2013!
Das Kleid ist der absolute Wahnsinn! Es ist super verarbeitet und der Satinstoff ist sehr angenehm zu tragen. Ich habe es in der Farbe "champagner" mit schwarzer Stickerei bestellt. Die Farben leuchten richtig schön und entsprechen genau der Farbpalette. Ich habe mir das Kleid nach meinen Maßangaben schneidern lassen (es kostet nur 14,00 EUR mehr)! Es sitzt einfach perfekt. Das Preisleistungsverhältnis ist einsame Spitze! Von mir gibt es die Note 1 ++++++ !!!!